Keeping In Touch With Our Employees And The Industry
11 May, 2016
5 Minutes
At Daniel Owen we know it is important for all levels of the company to keep in touch with w...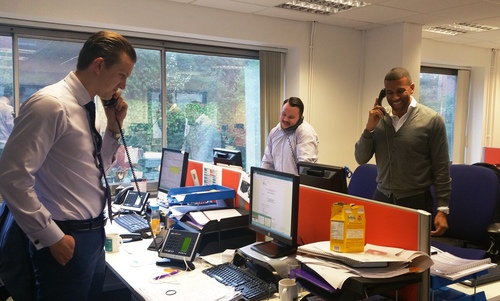 At Daniel Owen we know it is important for all levels of the company to keep in touch with what is going on within the business, and across the construction industry. It can be easy to become focused purely on your own role, and whilst that can produce results, we feel there are many more benefits to be had for our employees' own careers, and the company's performance as a whole, with taking people out of their roles every now and then! Having a better understanding of the bigger picture leads to a more dynamic way of working and, in turn, a better service for our candidates and clients.
That is why today we are doing a 'Directors at a Desk' day, in which our 4 Managing Directors on the recruiting side of the business are going back to their recruiting roots for the day. We will be catching up with each of them throughout the day - first up we have our Group Managing Director, Karl Burnett, who has joined our Professional and Technical Construction teams in Reading, and who is already hitting the phones!
Karl Burnett- Group Managing Director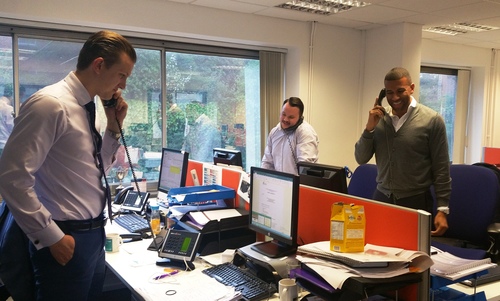 keeping in touch
Why are we doing the Directors at a Desk day?
Firstly to get the directors back on the floor for the day, mixing with the team and picking up the phone to make the business development calls that we target everyone with everyday. I am often busy with internal issues and clients, so to put all those aside for one day and focus on the role of a consultant is a great task.
What are you most looking forward to about today?
Experiencing the dynamics of the team.
What are you hoping to gain from today?
Of course some business! But also a better understanding of the current market. I've come to a team that cover a sector I've never worked in before, so today is most definitely an education.
Bernard Ward - Regional Director
keeping in touch
Why do you think spending a day at a desk is important?
It is vital to understand the challenges our teams face, it would be very naive to make board decisions around the direction of our business without understanding what is happening on the floor.
What have you found most interesting about today so far?
How our Consultants and teams are passionate about delivering a world class service to all our clients, candidates and internal stakeholders irrespective of the curve balls that come their way.
What are you hoping to have gained by the end of the day?
A renewed sense of pride in the way that we deal with our construction, maintenance and engineering clients and candidates; feeling comfortable that across our business we are offering a truly ethical world class service.
Steve Woodward - Chief Sales Officer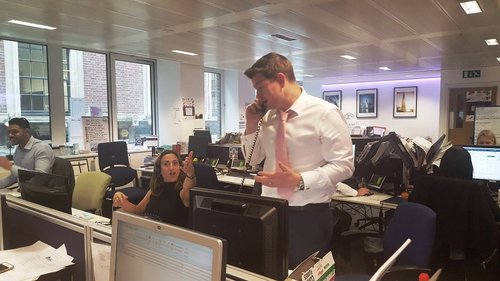 keeping in touch
What have you found beneficial about the day so far?
I knew we had hard working consultants, but seeing first hand how well they interact with clients and candidates has been great. In addition to this, seeing the efforts they go to in regards to making sure our values are at the forefront of all touch points was a fantastic.
Is there anything you have gained that you didn't expect?
I re-arranged the Sales floor for the day but part of me was concerned this may have a negative effect on consultants moving away from their normal teams. However, the energy and enthusiasm has been great and produced really positive interactions with both our clients, candidate and colleagues in the office.
Why do you think a day like this is important in a recruitment company like Daniel Owen Ltd?
It is natural sometimes to get bogged down in your own day job and forget the cogs are turning all over the business, days like this put the reality clearly at the forefront of how hard we all work for our customers.
Kevin Parsons- Chief Operating Officer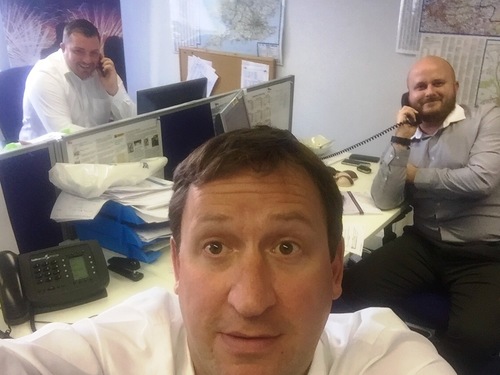 keeping in touch
What do you feel you gained from today?
It has been fantastic to spend time with Kris, Suzi and Toni in Oxford today and get to know them all a little better. It was great to see the site based sales approach in action, as my approach had always been working head office down. I heard some great calls, made some average ones myself, and it was good to be able to share some of my own experiences with the guys. Our values are clearly running strong in here and it's great to see a strong team spirit and our people looking after candidates and clients so well. I see leaders here and a great base for a big office. Good negotiation was going on all day and I noted 2 or 3 'small' wins that I know for sure can make a huge difference to the overall business.
What lessons were reinforced through your return to the sales floor?
It's clear researching your patch and mapping it thoroughly are absolutely key to success and making relevant calls and visits. What was really positive was seeing how much business there is out there and how many great contacts know about us and our brand.
Why do you think today was important for the company as a whole?
It's easy to forget that most people in the business have never recruited with the Directors and that the majority of all our careers' have been as successful consultants and team managers. We all enjoy the process and actually miss the buzz of a good week on a desk - there's nothing like it. Our discussions are ALWAYS about how we can help and hopefully from today the business will notice a hands on approach from all our senior staff as we move forward together. We always want to help strategically but know that by remaining involved on the front line we can ensure the decisions we make are informed and relevant to the business and the industry."