Why you should work with us
13 Aug, 2019
3 Minutes
It's an exciting one, but we work in a tough market. Construction, Engineering & Propert...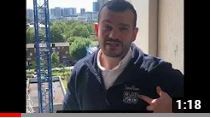 It's an exciting one, but we work in a tough market. Construction, Engineering & Property Services are not easy for a few reasons, not least being that we have a massive skills shortage in the UK at the moment. There has been underinvestment in training, a lack of emphasis placed on the importance of these industries as career paths and let's not forget, many of the jobs in these fields are hard work. Hard work, but extremely enjoyable and rewarding; with the opportunity at the end of a project to look back and see the difference you've made in the form of the building or development now in place. Then there are the strong relationships you can build on site, there is rarely a stronger group of colleagues than those that have worked together on site. Many, if they do leave the building trade, have stories to tell and miss the camaraderie, the bond.
It is the great opportunity that makes these industries exciting. There is so much work happening, look at the large-scale rejuvenation projects in places such as the Cadbury Quarter in Bristol and the upcoming Old Oak Common Redevelopment in London. The work is spread across the UK as we now see more work happening outside London and a UK Government investment of over £600 billion over the next decade. The skills shortage is being addressed with Apprenticeship schemes and new T Level qualifications. Opportunities abound and work is out there. This gives those working in construction, engineering and rail greater choice when it comes to who they work with – the knock-on effect is that now, more than in recent years, it matters how we as recruiters or employers work with people. We need to ensure our service to those workers delivers excellence. That we support progression and help people throughout their career lifetime, ensure they are kept in work and recognised for their loyalty. Not only do we have to deliver this service excellence, we have to prove it – so don't just take our word for it, listen to what Laurentiu has to say about his time so far with Daniel Owen Ltd as his recruitment agency of choice. The opportunities are out there, so give us a call on 0345 810 1020.