10 Things we learnt this year
17 Dec, 2020
10 Minutes
Without mentioning the C word (no, not that one!), we pondered what we learnt as a business ...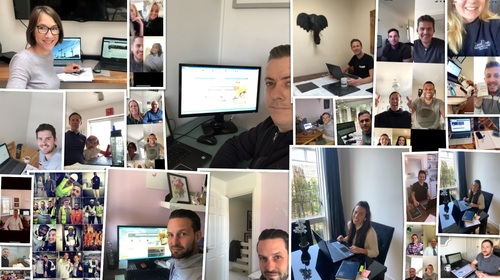 Without mentioning the C word (no, not that one!), we pondered what we learnt as a business in 2020. Everyone has faced challenges this year, and its been admirable to see the many key workers who kept the UK moving whilst many of us were locked away.
So, what did Daniel Owen learn this year about our team and the industry we operate in:
Construction is a very resilient sector.
Not just the many projects across the country, but every worker this year has been outstanding in their approach to work and the increased safety required this year.
Consultants always find a way to have fun!
With a strong culture, you can guarantee the consultants will find a way to keep celebrating their milestones and success together – even if a few virtual zoom pub sessions are required!
Culture has been essential to look after each other's wellbeing.
When the first lockdown was announced in March, we created a company WhatsApp group chat for all our offices to keep in touch. From there it was much easier to organise our virtual 5K running competitions, remote awards ceremonies and even the odd Friday drink over zoom!
Virtual fundraising is difficult but not impossible.
As the year went on, it became much easier to share justgiving links and mobile share codes to keep raising funds – although no more collecting tin we could shoehorn it into everything else!
IT investment has been crucial.
All our prior IT investment ensured we had a smooth transition from office to home working. Our fantastic IT team made sure that our phone apps and external systems were working ahead of time and everyone had all the equipment they needed to continue being a recruitment Rockstar!
Mental Health awareness is more important than ever.
We have long advocated for greater awareness of Mental Health challenges in the Construction industry, something that the Lighthouse Charity have campaigned to combat this year in the face of the pandemic. As we go into 2021 we're going to be more proactive, right off the bat we have ten new Mental Health first aiders joining our ranks to assist the sector.
Rewarding candidates is always important.
This is something we pride ourselves on as a business, so it was crucial to us that this continued during lockdown. Our consultants still handed out vouchers, workers of the month awards and our loyalty rewards to their candidates to maintain the exceptional service that we strive to deliver.
We miss our company holidays, a lot!
We cannot wait to get back away as a company! Company funded holidays are one of many of the wonderful incentives we have here at Daniel Owen and having our summer trip cancelled due to COVID is one of the many reasons why we cannot wait for 2021. Bring on Prague and Alicante!
Site visits helped.
Site visits are part of the daily routine here and whilst everything else was shutting down, it was great to still see our clients and candidates for a bit of normality – even if it was socially distanced!
Our consultants can weather a storm!
It goes without saying that this year has had its ups and downs, but the persistence, resilience, and determination that we have seen across the business from every member of the Daniel Owen team has been outstanding. Adapting themselves to working from home when lockdown happened and then adapting further for our client and candidate interactions was exceptional, and is one of the reasons we have hit new heights as a business this year.
When you face challenges, it's always important to remember what you learnt and remember what you overcame to get to where you are now. 2021 will have its own challenges, but this year was proof of how dynamic our team can be and that even a pandemic can't stop them from helping candidates and clients.
We wish you all well and hope the challenges you faced this year are something you can now reflect on over Christmas and build upon for 2021.
All the best for Christmas and the new year and we hope to see many of you soon!
Prefer to view a quick PDF on the above? Click here or the Image below to download!